Life in a care home – new Healthwatch report from Ashlynn Grange
Read our new report into life in Ashlynn Grange Care Home in Bretton following our visit on 25 September 2019.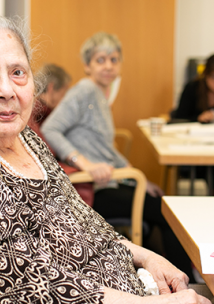 We wanted to know what residents and family members think about care there.
And to find out how easy it is for people living in the home to access local health services such as GPs, audiologists, dentists, opticians and chiropodists.
We also spoke to members of staff who are providing care.
The report – which can be downloaded below – found that overall, Ashlynn Grange is well-managed with friendly, experienced staff.
It also highlighted:
An interesting range of activities for residents to take part in
A genuine friendliness and encouragement to socialise
Improvements to its dementia environment
Difficulty getting dental care for residents
The 156-bed home is part of the Athena Care Homes group and offers nursing, dementia nursing, residential, residential dementia and palliative care.  It also provides intermediate and respite care.
As a local Healthwatch, our organisation has a statutory power to enter and view places that provide publicly-funded health or care services, to see and hear how people experience the services.
The report is being shared with Ashlynn Grange, social care regulators the Care Quality Commission, commissioners, quality assurers, Healthwatch England and other relevant partners.
Visiting services
Find out about our power to enter and view health and adult social care services. And how we use this to help improve care. 
Share your experiences
Services need to know what life in care homes is like for people to help improve them in future.
Do you have an experience of life in a care home that you would like to share?