The difference you've helped us make - our Annual Report 2018-19
Our Healthwatch has helped to improve health and care services for some of the most vulnerable people in our area thanks to the experiences local people have shared.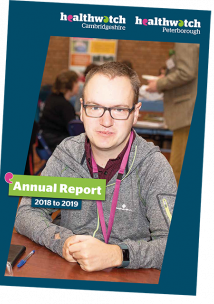 In the last year, our local Healthwatch has listened to more than 5,000 people from across Cambridgeshire and Peterborough to find out what is important to them.  
Improving dental care
We have raised awareness of the problems thousands of local people face trying to find an NHS dentist. Our 'Finding an NHS Dentist' report identified the biggest issues in Peterborough and Wisbech.
There is now funding in place to increase the availability of out of hours' dental care in Peterborough, but this is only a partial short-term fix. We will be following up on our big report later this year and finding out what is being done to make sure local people can book an appointment with a high street NHS dentist when they need one.
Making services better
We have also done important work to make sure health and care services meet the needs of some of the most vulnerable people in Cambridgeshire and Peterborough. This includes:
Helping Cambridgeshire and Peterborough Clinical Commissioning Group make information about Continuing Health Care easier to understand. This service was in crisis in early 2018 with a backlog of over 900 patients.
Making sure young women at Clare Lodge, a female only secure unit for young people aged 10 to 18 years, have more one to one time with an advocate. This is after we found that the young people were only getting one hour of advocacy support a fortnight shared between all residents.  
Asking the NHS to set up a Special Allocation Service to care for patients barred from routine GP practices. This service is now being developed.
Shaping health and care services
We support individuals to speak directly to the people who make decisions about local health and care services through our regular public meetings.  These bring commissioners and providers together with members of the local community to talk about local issues.
This year we have launched a brand new Health and Care Forum in Fenland which has already helped local people quiz health and care staff on issues like the North Cambs Hospital redevelopment and urgent and emergency care in the Fens.
In addition, our Healthwatch took over supporting Cambridgeshire County Council's Adult Social Care Partnership Boards and the Wheelchair Users' Forum in June 2018.  As part of this work, we've helped Cambridgeshire County Council and Peterborough City Council look at how they can work together more effectively in the future.
Read our Annual Report for 2018-19 and find out how we have:
Continued to champion the involvement of local people in the development of health and care services.
Helped more than 200 people with information on where to get help or advice.
Worked with our 39 fantastic volunteers who help us listen to people's experiences and visit local services.