Cardiology services at Peterborough City Hospital
Our report into the treatment choices and preferences of heart patients at Peterborough City Hospital.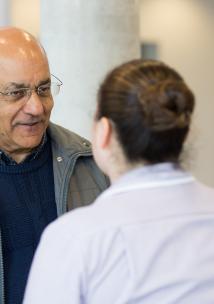 We spoke to more than 100 heart patients at Peterborough City Hospital to find out what was most important to them when choosing a place to be treated.
The survey included how highly people ranked different elements of their treatment, including:
Distance travelled
Length of waiting list for treatment
Continuity of care
And reputation of hospital
In particular, we wanted to know whether patients wanted to be treated locally, or at the Royal Papworth Hospital which is due to move to it's new site in Cambridge in Spring 2018.
What people told us
More than nine out of ten of the patients told us they would prefer to be treated closer to home in Peterborough. This was the most highly ranked of all the options. 
People didn't want to wait too long for treatment, with four out of five people saying this was very important.  
Next on the list was continuity of care with 69% of people wanting the same person carrying out the procedure and providing before and after care. 
Share your views
Have you had a recent experience of cardiology services? 
Talk to us and help make services better for everyone.
Call 0330 355 1285
Text 0752 0635 176