Healthwatch Peterborough first Annual Report 2013-14
Welcome to the first annual report for Healthwatch Peterborough.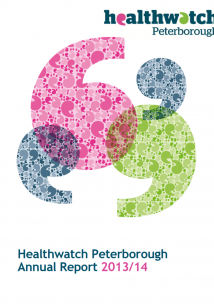 "We have been established as the local champions of the public, patients, carers and service users – for NHS health and social care services for over a year.

Due to the support from our dedicated volunteers and staff we have seen a seamless transition from LINk to Healthwatch and have been able to go from strength to strength.

We have continued to grow our community engagement and involvement work by attending local, regional and national events and by building on our established local networks.

We have attended and facilitated a number of events to reach as many people in our community, to hear about their experiences about our local services.  This provides us with an informed picture so we can share best practice when it's good – and make recommendations when it does not meet expected standards.'"