Access to healthcare remains a big issue for people locally
GP care, difficulties finding an NHS dentist and hospital outpatient appointments are the top three topics that people talked to us about last month.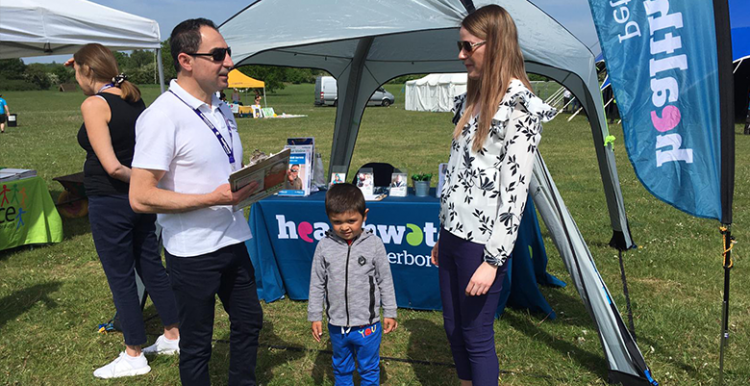 In May, you shared more than 180 experiences about local health and care services with us, from breast screening to eye care and from GP appointments to mental health crisis support.  
People share their experiences at local community events — like the one pictured above — online and over the phone. 
Men are often more reluctant to share their experiences, but this month almost one in three of the people we spoke to were men. Not everyone shares this information with us, so the figure may well be higher.
We've been able to use what you tell us to raise issues with the people who make decisions about NHS and care services in our area.
What you told us about GP care
Almost one in three of the experiences you shared with us were around GP care — with one in four praising the care they received.
Really good practice and can always get an appointment.
However, we are still hearing concerns about difficulties getting through on the telephone, long waits for appointments and problems getting a face-to-face appointment.
After 9 days of calling the surgery, I managed to book a face-to-face appointment.
Your GP practice
Your GP practice team is made up of a range of healthcare professionals with the expertise to help treat different health conditions. 
You might not always need to see a GP. Nurses, pharmacists, physiotherapists and healthcare assistants are all trained professionals who can diagnose and treat many conditions, helping you to get advice or treatment sooner.
Share your story
Have you or someone you love had a recent experience of care? Tell us about it. 
We log what you tell us and share it with the people who make decisions about local services to help them make care work better.
What you've said about dentists
Lots of people are still telling us how hard it is to access an NHS high street dental appointment.
"My wife and I want to have a dental check up to make sure all is well and to tweak our dentures but can't find a dentist."
We know that the shortage of NHS dental appointments is not just local and it has hit people on low incomes the hardest.
We've been highlighting dental issues for more than three years. And nationally Healthwatch England are calling for a reform of the dental contract.
What you've told us about hospital and urgent care
You shared a mixture of feedback about inpatient, outpatient, and emergency care services over the last month.
Admitted to hospital for operation - monitoring and everything else was excellent.
We continue to hear praise for NHS staff, but also concerns about long waits for appointments and some poor examples of care, for example one person told us about an inpatient left in wet and dirty clothes. 
Waiting for care
More than 89,000 people are waiting for hospital and community care appointments in Cambridgeshire and Peterborough. And the average wait for treatment is almost 13 weeks, although one in twenty people are waiting for more than a year.
Waiting lists are going to be with us for some time to come — and they vary according to what you are waiting for treatment for.