Tell us your care home experiences
The Covid-19 pandemic has had a huge impact on care home residents and on their friends and families and staff. Our new survey records your experiences and challenges over the last 12-18 months – and asks what life is like now.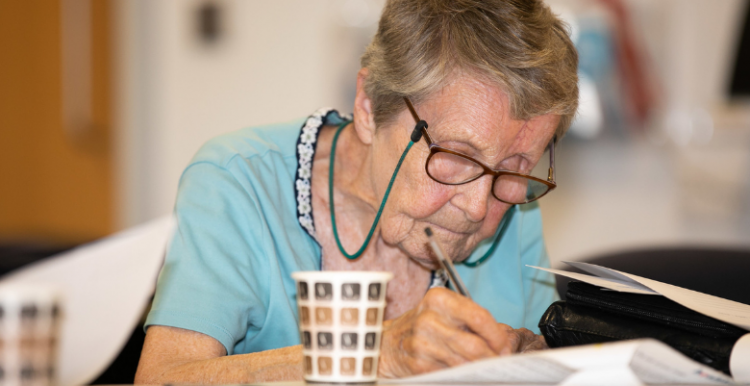 Looking back, it's a miracle that that my Mum moved care homes just before lockdown. If she hadn't, I think it would have been a very different story. We'd had a lot of concerns about the previous home. I learned later on that it had one of the highest death rates during Covid in the area. And I thought, thank goodness she is not there.
The pandemic has had a devastating impact on care homes across England. And for care home residents and their families, the last 18 months have been exceptionally stressful and challenging.
Despite the dedication of staff in caring for and supporting frail and vulnerable residents, lack of communication, a ban on visiting, unfamiliar masks and new routines created anxiety, confusion and upset for many residents.
For friends and family members – like Claire who shares her story here  – not being able to visit, carry out caring duties or have physical contact with relatives really hit hard.
And, tragically, some families were not able to be with loved ones in their final days and moments and didn't get the chance to say goodbye. Our Healthwatch acknowledges how painful this has been for many families and that it has had a traumatic and lasting impact. 
With your help, our survey will find out about life in local care homes and learn how this has changed and if things are returning to "normal".
We'll share the findings with local health and care providers.
Tell us what it's been like for you
If you have a care home story to tell us, we'd like to hear it.
Our care home survey aims to capture the experiences of residents and their families. Whether it's a good or bad experience, we can use your feedback to improve services for everyone.
Anything you tell us will be anonymised and shared with NHS and local authority care teams in our area. 
Hearing your experiences helps them learn from the challenges and prepare better for the future.
Claire's story
Claire says she has a lot to feel grateful for – and that her mother's last 11 months were happy, in spite of the pandemic and all the rules and regulations.
Staying in contact
"When lockdown came, we Skyped one another every week.  She had lost her sight but she could hear my voice and she knew I could see her. 
"I'd say I'm sending you a hug over the ether now.  And I'd see her reel back, smiling,  pretending to feel it. We both had good imaginations."
Good care from 'brilliant' staff
"My mother was in a good place and she was happy because the staff really cared for her. They were brilliant. 
"They kept all the activities going and because they really got to know her well, they made sure she was included in all the things she enjoyed. They also had time just to chat with her.  She loved company and talking to people more than anything.
"Things were as good as they could be, given all the rules. But I wasn't able to hold her hand or hug her until the day she died."
End of life care
"I'd always promised my Mum that she would not die alone and that I'd be there to hold her hand and reassure her.
"The care home said that if it was end of life, I'd be allowed in.  I was, but it was right at the end.
"By the time I got my gloves on, a mask, a visor – all the protective equipment – I only had about half an hour.
"I can't help thinking that in non-Covid days, I'd have had more time, I would have been there all week and in the days leading up to it.
"But I'm grateful to have kept my promise to her. I know lots of other families were kept apart."