Why ReSPECT matters in decisions near the end of life
The local NHS has responded to a letter from us promising improvements to end of life care for people in Cambridgeshire and Peterborough.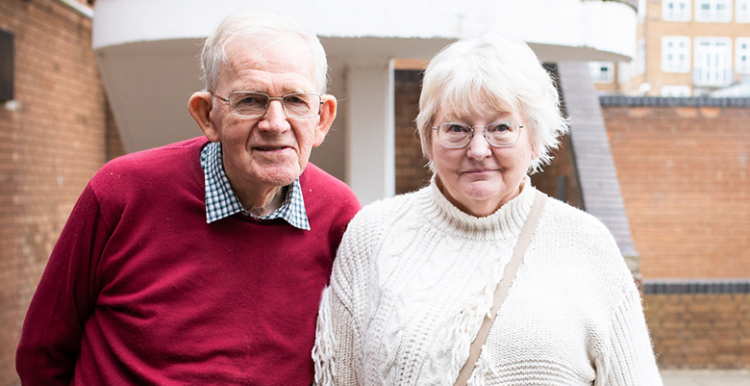 They will set up a task group that our Chair Val Moore will be part of, to improve staff training and communication so that people's decisions about dying are respected.
This is after some people's decisions about their care and treatment at the end of life were not respected during the first wave of the Covid pandemic.
We raised the issue after worrying feedback from local people. One person told us,
"The only time the GP has got in touch with my friend is to make her sign a DNR (Do Not Resuscitate)."
Another said,
"ReSPECT forms (Recommended Summary Plans for Emergency Care and Treatment) suddenly done on phone at start of pandemic wasn't nice at all! Should have been sent a warning letter to prepare!"
Making ReSPECT part of care near the end of life
ReSPECT is a plan for a person's emergency care and treatment. It looks at a person's personal preferences in terms of balancing decisions about saving their life against being comfortable. 
Any decisions should be made in consultation with the individual, or an appropriate representative, taking into account their wishes and needs.
As people are not always able to make decisions about their priorities for care in an emergency, talking about what they would want to happen in advance is important. 
The CCG told us that all providers of services, including GPs and care homes, did need to make sure that any ReSPECT or 'do not resuscitate' (DNR) decisions and wishes were in place, and up to date, at the start of the pandemic.  
And that they worked with all their providers of services to raise awareness and provide training on ReSPECT. This was both before, and again at the very start, of the COVID-19 pandemic, to ensure that no blanket decisions 'not to resuscitate' were made by care providers. 
What we asked for
We wrote to Cambridgeshire and Peterborough health chiefs in December to call for improvements in involving people in decisions about care near the end of their life.
This includes having conversations with people using the ReSPECT form developed by the Resuscitation Council UK.
We also called for:
a recognition from the local health and care system that there is a need to improve end of life care
more conversations with local people and clinicians to understand what matters most to people
better training and information for staff supporting people who are near the end of their life.
How the pandemic affected implementing ReSPECT
Good work in making sure people were involved in decisions about dying, dropped off during the first wave of the pandemic. This is because the use of ReSPECT was not properly embedded. One clinical leader told us,
"We carry out reviews of people that have died in the Trust. It is sad to see completed ReSPECT forms that clearly state not for readmission to hospital and would prefer to die in own home...we have got to be better than this, working together to bring people's expectations to the fore in times of emergency."
Our concern at Healthwatch is that the people most affected by this sort of poor practice will be older and disabled people from our poorer communities, and those with nobody to speak up for them.
"It is sobering to contemplate that the gap in health inequalities may get ever larger in times of emergency or end of life care if better decision making is not embedded."
Tell us about your experience
Have you or someone you care about had a recent experience of end of life care planning? Did you have conversations about your choices and feel that you were listened to. 
Share your experiences to help NHS and care organisations improve support to families at the end of life and ensure that people's choices are respected. 
Supporting the Care Quality Commission Review
As part of raising our concerns, we also contributed to a Care Quality Commission (CQC) review into the use of DNACPRs (Do Not Attempt Cardiopulmonary Resuscitation') decisions. Cambridgeshire and Peterborough were one of the seven areas the review looked at in depth.
The CQC's report 'Protect, respect, connect – decisions about living and dying well during COVID-19', was published last month. And it found a worrying variation in people's experiences of resuscitation decisions.
What needs to happen now
Work was done to tackle poor practice last year, for example Cambridgeshire County Council and Peterborough City Council took supportive action with some care homes.
But more needs to be done in care settings to make sure people understand the choices they have and that their wishes are respected at the end of life.
Lesley Deacon, Deputy Chief Nurse at Cambridgeshire and Peterborough Clinical Commissioning Group which plans and pays for end of life healthcare, responded to our concerns. She said,
"I have discussed the use of ReSPECT across Cambridgeshire and Peterborough with Prof. Stephen Barclay, C&P CCG / STP Clinical Lead for End of Life Care, and asked him to lead a Task and Finish group…"
What the group will do
The group aims to "benchmark the use of ReSPECT "across Cambridgeshire and Peterborough and get all end of life providers to sign up to it. This includes:
Reviewing the resources and communication in relation to ReSPECT locally.
Writing an educational strategy that all providers sign up to and developing an education programme. This will help embed good practice.
Taking action on the recent findings of the Care Quality Commission's DNACPR report (February 2021).
Supporting improvements in end of life care
We are keen to support local health and care organisations to look at how they can improve patients' and their families' experiences of decision making at the end of life.
As part of this we met up in March this year with North West Anglia Foundation Trust – that runs Hinchingbrooke and Peterborough City Hospitals – to help run a training session on the importance of ReSPECT. The session was attended by NHS staff, including GPs and paramedics.