Finding an NHS Dentist in Peterborough
Everyone should be able to get the care and advice they need to keep their teeth, gums and mouth healthy. But lots of people tell us how hard it is to find an NHS dentist in Peterborough.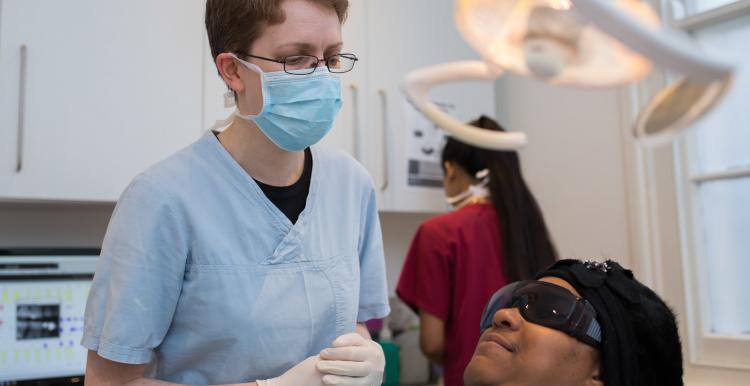 A lack of access to NHS dentistry is one of the biggest issues people tell us about and the problem has been exacerbated by the Covid-19 pandemic.
You may need to consider travelling some distance to find an NHS dentist and be prepared to wait for some time before being seen.
Dentists don't have catchment areas, so you can visit a dentist outside of your local area if that works for you.
Where's your nearest dentist?
Use the NHS website to search for a dentist near you. The site also provides information on which dental practices are currently accepting new patients, whether they offer urgent appointments, and how other people have rated the service.
You can find practices by postcode, town or city. But information is not always kept up to date by individual dental practices, so always contact them direct to check.
You can also visit the Dental Choices website, which uses the same information but covers a wider geographical area: https://dentalchoices.org/
Still can't find a dentist?
If you have contacted several dental surgeries and you still cannot find a dentist accepting NHS patients, call NHS England's Customer Contact Centre on 0300 311 2233.
It has a duty to provide routine and urgent dental care across the country.
You can leave your feedback or make a complaint to NHS England here:
https://www.england.nhs.uk/contact-us/complaint/complaining-to-nhse/
Do you have a dental emergency?
If you have pain, swelling, or bleeding, ask your regular dentist if they can offer an emergency appointment.
If you don't have a regular dentist, call NHS 111 or visit https://111.nhs.uk/  for help to find an urgent dental centre.
The dentist will triage you, offering advice, antibiotics, or pain relief, and offer a face-to-face appointment if they think it necessary.
Why is it so difficult to find a local NHS dentist?
There's a shortage of NHS dentists and dental nurses in our region and a significant problem in recruiting new dental staff. 
During the pandemic, dentists worked to strict infection control guidelines meaning that they could see fewer patients. Although dental services are back to normal as protective measures are relaxed, they may have to deal with a significant backlog. This means you might find that it is still difficult to get an appointment.
As dental surgeries are independent businesses, they may also take on private patients. 
Do you need to be registered with a dental practice?
Dental registers have not been kept since 2006.
While you may sign up for a course of NHS treatment at a dental practice and give your details to their patient database, it does not guarantee you access to NHS dental appointments in the future. 
What we're doing to help improve things
Problems finding an NHS dentist and getting care is a national problem.
We've been highlighting NHS dentistry issues in Cambridgeshire and Peterborough for more than three years, following our Finding an NHS Dentist report in January 2019.
We meet regularly with NHS England, which plans and pays for dental services in our area, to raise your concerns. And are working with the local General Dental Council to improve dental care provision. But unfortunately, there is no quick or simple fix.
NHS England has recently announced several steps to ensure better dental support for people with complex problems as part of the new dental contract. And improve the information available for those trying to find an NHS dentist.
We are pleased at this announcement from NHS England which should improve care for those with complex dental issues. However, we remain concerned about the lack of routine NHS dental care appointments in Cambridgeshire and Peterborough. 
How much does dental treatment cost?
Even with an NHS dentist, most people will have to pay towards the cost of dental treatment, but some patients can get NHS treatment for free. 
You can find out more about costs on the NHS website:
https://www.nhs.uk/nhs-services/dentists/dental-costs/understanding-nhs-dental-charges/
A basic routine examination, which includes diagnosis, advice, a scale and polish if clinically needed and some preventative care, costs £23.80 (as at Nov 2021). However, if you need further dental treatment this will be an extra cost.
Dental practices usually offer both NHS and private dental care. So check whether you are paying for NHS, private treatment, or both, before you begin your treatment.
If you're entitled to free NHS treatment and your treatment is a mix of NHS and private, you will still have to pay for the private treatment.
NHS dentists should always:
Explain which treatments are available on the NHS
Explain which treatments are only available privately
Make sure you know how much your NHS treatment and private treatment will cost.
Can you get help towards dental costs?
You might be able to get help to pay NHS charges for dental treatment.
It depends on your age, if you get certain benefits, and if you have a medical condition.
Find out more with these links to the NHS website:
https://www.nhsbsa.nhs.uk/help-nhs-dental-costs/free-nhs-dental-treatment
You can also use this online calculator to see if you are eligible for help.
https://www.nhsbsa.nhs.uk/check-if-youre-eligible-help
If you don't qualify for  free NHS dental treatment but have a low income, you might be able to get free or low cost treatment through the NHS Low Income scheme.
https://www.nhsbsa.nhs.uk/nhs-low-income-scheme
Good to know: Oral Health Foundation's Dental Helpline
Staffed by dental nurses and trained oral health staff, the helpline offers free, impartial advice on any oral health issue such as treatment procedures, oral hygiene, current legislation and regulations, dental charges, complaints procedures, and referrals to other organisations.
Call: 01788 539780 (local rate call in the UK) 9am to 5pm Monday to Friday.
Dental care for people with disabilities/additional needs
Children, young people and adults who are not able to use routine general dental care can be seen by Dental Health Care.
This specialised dental service in the community sees people with a physical, sensory, intellectual, mental, medical, emotional or social impairment or disability.
However, to use this service, you must be referred by a general dental practitioner.
Find out more about eligibility and referrals in Peterborough by visiting the Dental Health Care website.
https://www.dentalhealthcareeoe.nhs.uk/services/special-care-dentistry/
Questions about the service? Call 0300 555 6667 and press option 2.