Care home visiting: staying safe while seeing your loved ones
Restrictions on care home visitors are being reintroduced to protect residents and staff from the new Covid variant, Omicron.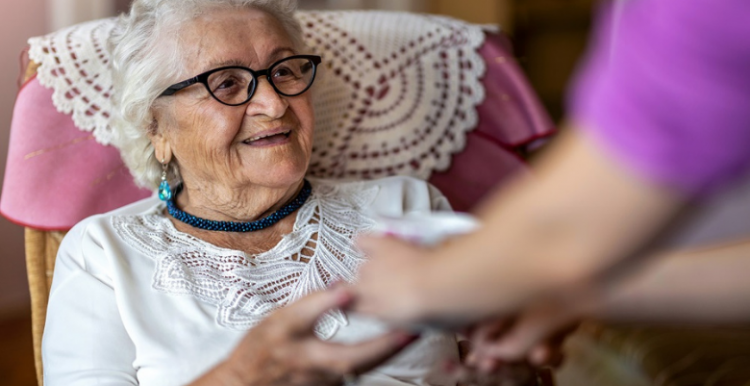 Page information correct as of 17 January 2022
Visiting update 15 December 2021
In a statement to Parliament, Health Secretary Sajid Javid said it was a difficult step to limit visitors but one of the most effective ways to protect vulnerable residents.
From Wednesday, 15 December
Residents can nominate up to three nominated visitors plus their essential care giver who will be able to make regular visits
Staff and essential care giver testing arrangements have changed
Testing or self-isolation is required following visits out of the care home.
We know that regular visits are hugely beneficial to the wellbeing, mental health and quality of life of people living in care homes.
Essential care givers and families and residents visiting at end of life are able to visit in all circumstances.
However, we are hearing through our autumn care home survey that some local people are finding it difficult to get  "essential care giver" status – as laid out in the guidance – or it is just not recognised by care homes.
So here's a reminder about the role and how to make sure your rights as a resident, or those of your loved one at a care home, are properly taken into account.
Tell us about your care home experiences too
We want to hear about health and care in Cambridgeshire care homes and what it's like for residents and families. 
Sharing your experiences – and those of your loved ones – will help improve care. 
Whether it's good or bad, we can use your feedback to improve services for everyone and we have the power to make NHS leaders and other care providers listen to what you have to say. 
Essential care givers
The essential care giver (ECG) role is vitally important to supporting residents' health and wellbeing and all residents should be helped to have one.
ECGs should be able to visit more often than other visitors to provide care and companionship – and to keep visiting even during isolation or a Covid outbreak at the home.
If providing direct personal care, ECGs should follow the same PPE and infection control arrangements as care home staff.
You don't need to provide personal care to be an ECG.
Talk to your loved one and the care home to organise it. And see it's agreed in the resident's individual assessment on visiting as part of their care plan.
Read more about the role
Download the Essential Care Giver Mythbusting document at the bottom of the page, written by our colleagues at Healthwatch Leeds.
Testing arrangements for ECGs
A weekly PCR test
A minimum of three lateral flow tests a week: one on the same day as a PCR test;  a second test two to three days later; and a third two to three days after that.
More testing may be needed – such as during outbreaks – and will be in line with care home staff.
Staying safe
People living in care homes are typically more vulnerable to severe illness as a result of Covid-19.  So extra measures are in place around visiting and to keep staff and residents safe. These include infection prevention and control measures, individual risk assessments, testing arrangements and isolation on return from some high-risk activities out of the home.
Key information for nominated visitors
Arrange visits with the care home in advance
The length of visits should not be limited as long as safe visiting is practised
You need to take a lateral flow test and show a negative result on the day of your visit. Tests can be taken at home or when you arrive at the care home. But check testing arrangements with the home first.
Wear a mask throughout your visit
Wash your hands thoroughly with soap and water when you arrive at the care home.
Keep your distance from and limit contact with other residents and staff
Visits should take place where it's most practical and comfortable for the resident. If your loved one has dementia, for example, it may be more comfortable in their own room with familiar belongings.
During an outbreak, care providers should continue to offer visits in well-ventilated spaces with substantial screens, visiting pods or from behind windows.
Physical contact with the resident you are visiting should be supported to help health and wellbeing, as long as infection prevention and control measures are in use. These include visiting in a ventilated space, using appropriate personal protective equipment (PPE) for the visit, and hand-washing before and after holding hands. Gloves are not needed for hand-holding and you must strictly follow hand washing advice. 
Don't enter the care home if …
1. You are feeling unwell, even if you have tested negative for Covid-19 and are fully vaccinated and had your booster
Transmissible viruses such as flu, respiratory syncytial virus (RSV) and norovirus can be just as dangerous to care home residents as Covid.
So if you have any symptoms of these - such as cough, high temperature, diarrhoea or vomiting, you should avoid the care home until at least 5 days after you feel better.
2. Are a close contact of someone with Covid
Visitors who are not legally required to self-isolate are strongl advised against visiting the care home (for 10 days) if they have been identified as a close contact of someone with COVID-19, unless absolutely necessary, even if they have been fully vaccinated.
If visits do go ahead,  visitors should have received a negative lateral flow test result earlier in the day of their visit.
Residents' visits out of the home
Residents should be supported to make visits out of the care home.
If they have had at least 2 doses of the vaccine, or are exempt from vaccination, they should not have to isolate following most visits out of the care home but should take a lateral flow test every second day for 10 days following the visit out.
Residents who have not received at least 2 doses of the vaccine, and are not exempt from vaccination, should isolate for 14 days following a visit out
All residents should isolate following an emergency stay in hospital, if they test positive for COVID-19 or following a visit that has been deemed high-risk following an individual risk assessment by the care home
End of life visits
Visits around the end of a resident's life should always be supported, says the guidance.
Families and residents should be helped to discuss and carefully plan visits in good time over the final months and weeks. Not just the final days or hours.
Anyone making end of life visits should be tested using lateral flow tests.
Friends and family don't have to be double-jabbed to visit
It is strongly recommended that visitors get two doses of the Covid-19 vaccine, plus their booster especially in light of the Omicron variant.
If eligible, visitors should also get their flu jab when it is offered to them
However, you don't have to be double-jabbed to visit.
New rules came into force on 11 November and mean all care home workers, and anyone entering a care home, need to be fully vaccinated.
However, this does not apply to friends and relatives, under-18s or people visiting residents who are dying or offering bereavement support.
Who sets the visiting rules?
The Government's updated guidance on care home visiting came into force on 25 November 2021. But visiting policy is set by individual care homes.
To limit mixing between visitors, some homes may have to limit how many visitors can come in, or how often, because of the amount of space or layout of rooms.
When developing their visiting policies, care homes should
Always involve residents and loved ones in setting individual risk assessments around their rights and needs and any specific vulnerabilities in the resident's care plan.
Consider residents' rights to visits and the important role visitors play in residents' wellbeing.
The visiting policy should be available and communicated to residents and families.
If there's a Covid-19 outbreak in the care home
If there's an outbreak at the care home, there should be a stop on indoor visiting (except in exceptional circumstances such as end of life).
Essential care givers can continue to visit indoors, but not if the essential care giver or resident they visit are COVID-positive.
Other methods of maintaining contact between residents and their loved ones should be supported. Such as:
Visits in well-ventilated spaces with substantial screens, visiting pods or from behind windows
Telephone calls
Video calls
Emails, letters, cards or photographs
Unhappy with a visiting decision?
If the care home makes a decision you disagree with, speak to the manager and ask to discuss things.
You could ask about the risk assessment the care home has developed to decide its visitor policy. Or ask for an individual risk assessment for your loved one.
If this does not help, you could contact a social worker at your local council to help discuss the situation with you and the care home and find a solution.
---
Care homes not following guidance?
If you think the care home is not following visiting guidance, raise the matter with the home.
If the care is funded or arranged by a local council then they should be contacted about the issue.
If you are not satisfied that the issue is resolved, you can contact the Care Quality Commission (CQC).
The CQC inspects the safety and quality of care in care homes, and they will consider if they need to investigate
Contact CQC National Customer Services Centre
 03000 61 61 61
Share your feedback using an online form