Face coverings: what you need to know
Rules are now in force in England making it compulsory to wear a face covering in NHS settings, shops and supermarkets, hospitality venues and other public indoor spaces.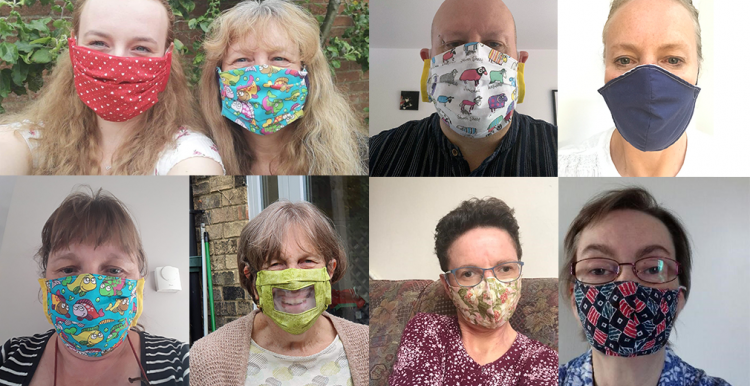 When you need to wear a face covering
Face coverings are needed in NHS settings, including hospitals, and primary or community care settings, such as GP surgeries. They are also advised to be worn in care homes.
You also need to wear a face covering on public transport, taxis and private hire vehicles.
And when visiting shops and public indoor spaces, including hospitality venues such as bars, pubs and restaurants.
You should also wear face coverings in enclosed public spaces where social distancing is not possible and where you are more likely to come into contact with people you do not normally meet.
Children in year 7 and above will now need to wear face coverings in indoor communal areas at school.  
What is a face covering?
Something which safely covers the nose and mouth. You can buy reusable or single-use face coverings. You may also use a scarf, bandana, religious garment or hand-made cloth covering but these must securely fit round the side of your face.
Why wear one?
They protect others – not the wearer – against the spread of the infection because they cover the nose and mouth. Coronavirus (Covid-19) can spread predominantly by droplets from coughs, sneezes and speaking.
The Government says that when used correctly, wearing a face covering may reduce the spread of coronavirus droplets in certain circumstances.
If you don't …
Premises where face coverings are required should take reasonable steps to promote compliance with the law.
The police can take measures if members of the public do not comply with this law without a valid exemption.
Transport operators can deny access to their public transport services if a passenger is not wearing a face covering, or direct them to wear one or leave a service.
If necessary, the police and Transport for London (TfL) officers have enforcement powers including issuing fines of £200 (halving to £100 if paid within 14 days).
After the first offence, will be no discount. And anyone receiving a second fine will have to pay £400, a third fine will cost £800, up to a maximum of £6,400.
Who's exempt?
Some people are exempt from wearing a face covering – perhaps for health reasons. And everyone is encouraged to be mindful of those less able to wear them.
These include:
Young people under 11
People travelling with/accompanying someone who lip reads
Anyone who suffers severe distress when they put it on
Someone with a disability where they're unable to put it on
Worried about being challenged? 
You may feel more comfortable showing something that says you do not have to wear a face covering. This could be in the form of an exemption card, badge or even a home-made sign.
This is a personal choice, and is not necessary in law.
You can carry one of these badges from the Government or save it as a photo on your phone.
Wear it well
It should safely cover your nose and mouth and go under your chin.
Avoid touching your eyes, nose, or mouth at all times
Store used face coverings in a plastic bag until you have an opportunity to wash them
Wash a face covering regularly
Glasses steaming up?  Try putting the top of your mask/covering behind your frames. Or tape it down across the bridge of your nose and across your cheeks..
Treat your face covering like underwear!
Infectious diseases expert Dr Daniel Griffin from Columbia University in the USA says to think of a mask as underwear: and wash it after each use. 
Your face covering is personal -- don't borrow or lend it to others.
Wear it out of respect for others.
DIY
You can easily make your own – with designs ranging from a basic no-sew made from an old T shirt and a couple of hairbands.
Some people are adding filters made from vacuum bags, coffee filters and sanitary liners.  
Read more Government advice on making masks
Top tips from Healthwatch staffer Debbie
Healthwatch team member Debbie has made nearly 100 masks for friends, colleagues, family and other local people around Huntingdon.
A member of her local For the love of Scrubs group, Debbie makes a pleated design using material, with elastic loops at the sides to go over your ears.
"Designs vary a lot so you might need to try different ones to get a good fit.

"The important thing is that you wash it regularly and after each use, when you get home," she says.  "And to just wear it. It's about protecting others, not protecting yourself."
Read more
Government guide to face coverings
World Health Organisation - when and how to use face masks
And finally …
Even with a face covering on, you still need to:
Wash your hands regularly
Cover coughs and sneezes
Keep your distance from other people